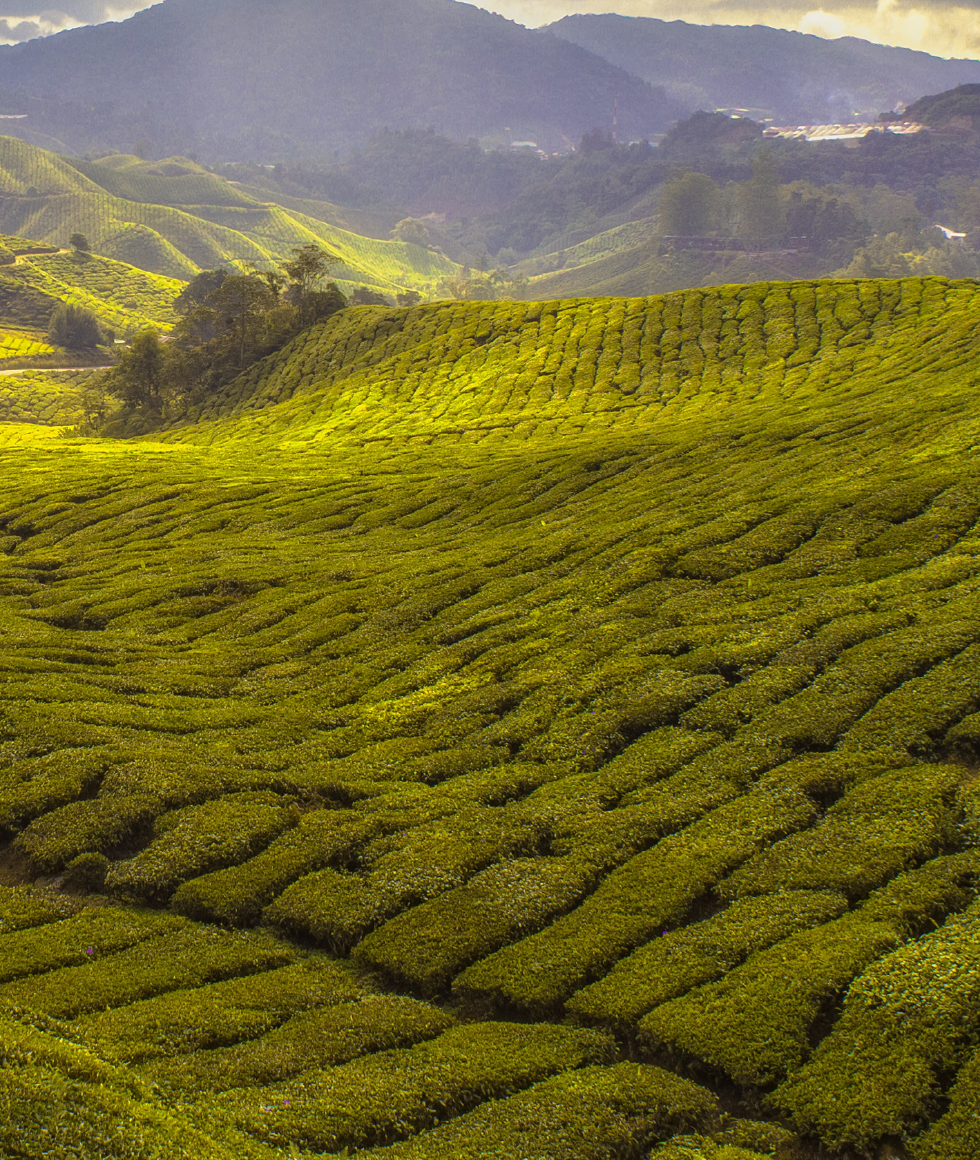 大和茶とは大同元年(806年)に弘法大師が中国より茶の種を持ち帰り弟子の堅恵大徳が宇陀市榛原赤埴の佛隆寺に植えさせたのが初めとされています。
『ひむがしの野にかぎろひ立つみえて』の歌で知られる奈良県東北部の大和高原一帯の山間地で生産されており標高300m以上、朝晩の温度差が激しい高冷地です。
平均気温や日照などが、お茶が育つギリギリの条件なのでお茶はゆっくりと育っていき、その分香り高い良質な茶ができます。
厳しい条件下で栽培される大和茶は深みのある味わいを感じて頂き二煎・三煎まで美味しく、そしてより多くのカテキンをお飲みいただけます。
Grandmaster monk, Kobo Daishi brought tea seeds from China in 806. One of his disciples, KENNE-DAITOKU planted the seeds at BUTSURYU-Temple and started cultivate Yamato Tea in Akabane, Haibara, Uda-city.
Yamato tea has been produced in the mountainous areas of Yamato in northeastern of Nara Prefecture where an altitude of the area is more than 300m and temperature difference in the morning and night is very intense.
The weather in the mountain area satisfies the minimum temperature and amount of sunlight for the tea cultivation so that tea trees grow slowly and they produce very high quality tea leaves which are full of aroma.
Yamato tea which is produced in such unique condition has very deep taste and you can enjoy up to the third extraction with full of flavor and catechin components.

村上商舗は慶応元年、茶に適した奈良は大和の地より初代茶師 村上清七が茶の製造・販売したのが始まりです。以来、代々にわたり大和茶の伝統と品質に改善を努めてきました。 その後、三代目茶師 村上萬治郎により現在の『村上萬緑園』という名に改名し、もっとより多くの人々に大和茶の味を知ってもらう為に四代目茶師 村上清治の代より奈良県下の病院・介護施設や飲食店などに販路を広げました。
村上萬緑園は創業以来『自然の恵み』と『天然の味わい』をそのままに安心・安全なお茶を皆さまにお届けしてまいります。
村上萬緑園 五代目 村上清司
In 1865, the first year of Keio period, MURAKAMI-SYOHO was founded by the original tea master Seihichi Murakami who started manufacturing and trading tea in Yamato where is suitable for tea cultivation in Nara.
Since then, MURAKAMI-SYOHO improved the quality of Yamato tea and preserving the tradition from generation to generation.
In the era of the third tea master, Manjiro Murakami, he renamed the company to the the current name "MURAKAMI-MANRYOKUEN". In order to get to be known the quality taste of Yamato tea by more and more people,
the fourth tea master Kiyoharu Murakami, expanded the tea distribution area to the hospitals, nursing homes, and restaurants in Nara prefecture.
MURAKAMI-MANRYOKUEN has been raising the quality of Yamato tea since its inception in 1865 and will continue to share the blessings and the taste of nature of Nara with people around the world.